The first digital photo ever published on the Internet was of four pretty women. Surprising!
It was posted in 1992 by Sir Tim Berners-Lee, the Father of the World Wide Web. Granted all the ladies were fully clothed, yet his instinctive gesture seems only fitting to the subsequent explosion of the internet as a medium for erotic entertainment.
In 1999 I launched Matt's Models.  Only 41% of the U.S adult population were using the internet. * Popular subjects were news and the weather.  Internet access was mainly through slow dial-up modems. I was using AOL and the vintage Netscape Navigator as a browser.  Since there was virtually no free web-based free porn I accessed adult photos through Newsgroups which required special software called a Newsreader. Newsgroups or Usenet, were originally text based forums for sharing information. However binary groups allowed for the sharing of larger file sizes and thus photo content. It was here I found my clients photos (which I had shot) being shared by the thousands, often with discussion about a particular model or photo set. I would think: Hey we shot those photos!  I suppose my own ego was part of the impetus for starting my own site. Our stuff was popular but I wasn't getting the credit.
I had been shooting exclusive photos for several clients. One of them was an exceptional asshole. Although I was finally running my own business, I was being run by this one client. I understand demanding clients but this guy was just a controlling, condescending dickhead. I should thank him now because he is another reason I decided to start my own website.
Another client of mine was a great, helpful guy. Kim Nielsen from Amateur and Teen Kingdom (ATK). Kim was one of the pioneers in adult websites. He had a background in corporate marketing and was extremely smart. He was nice enough to allow me to pick his brain regularly.
Commercial glamour or nude modeling historically had always been shot professionally using studio locations, film, lighting, hair and makeup. The first crop of adult sites broke this mold. They could use amateur style photos, shot much cheaper with the most important commodity being the models. Whereas the magazines traditionally only published a few models per monthly issue, the websites needed new models and updates throughout the month and the demand was increasing. ATK was updating with several models  and over one thousand photos per week. Demand was skyrocketing.

In addition, traditional nude modeling was usually accompanied by bios which were 100% fantasy.  Playboy was an exception, publishing the models real names, home towns and high schools but their photos were not explicit (they didn't show vaginal lips).
My wheels were turning: My simple idea was borrowed from my clients yet with my own twist: Bios and backstories, including my own experience shooting the models would be real  – at least as real as possible. What if all those guys in the Newsgroups knew the real story behind the model or shoot?
I chose the name "Matt's Models" for several reasons. I wanted no dispute on the copyright. I wanted my site to have a personality;  not just representing the girl next-door but the average guy next-door – through my photos and stories. People read the articles in Playboy don't they? I believed there was some added value in celebrity. Becoming famous by a traditional medium is maybe one in a million. Now I was involved in a brand new medium where the landscape was wide open and the competition was scarce, so why not? The amateur Hugh Hefner?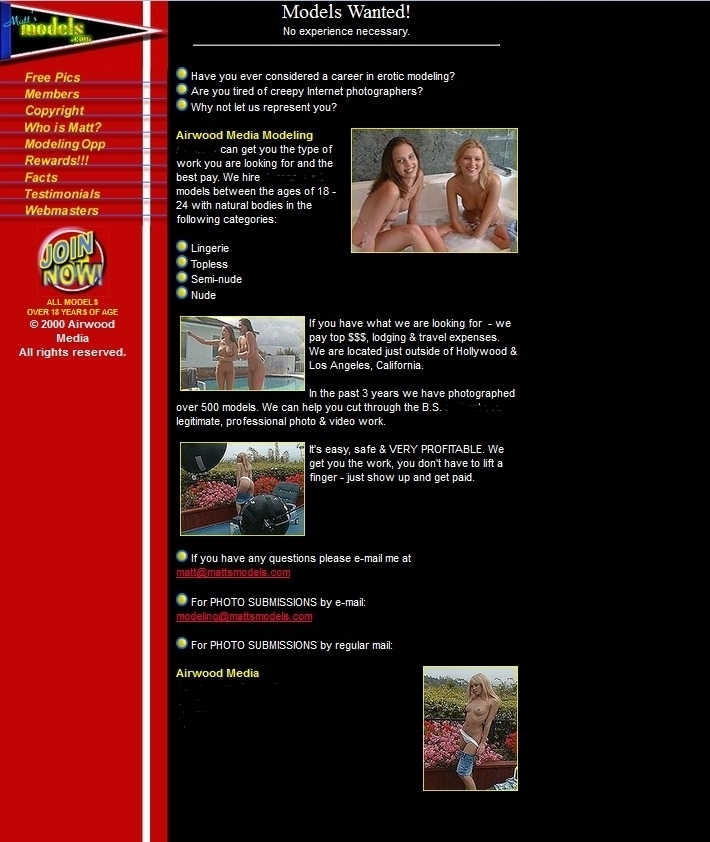 I needed a website but knew absolutely nothing about computer programming. HTML was still in early development and there were no blogging or user-friendly web design programs. Craigslist had just expanded into Southern California. I placed an ad for a computer programmer. My first response was from a young Asian guy named Quan. He lived just fifteen minutes from me. We chatted by email. I made it clear that it was an adult website with nude girls, in case he had any reservations about working with that type of material. He replied: "I love nude girls!" We were off!
I had more than a few lucky breaks when starting my site and finding Quan was one of them. At the risk of having the rest of my future existence hacked; from my personal experience I've come to the conclusion that programmers as children, maybe just didn't get enough time away from the computer. Step away from the computer!  To this day Quan was the most capable, humble, loyal and normal programmer I ever hired.
The initial Matt's Models was only a few free pages of text, a few small thumbnail samples of the first models and a tiny members area. Yet once it was up and running Kim generously offered me a little promotion from ATK. I also realized that the newsgroups, rampant with shared or stolen photos were also free advertising. I found a software program in the newsgroups with the capability of batch postings – posting multiple photos to multiple newsgroups at a time. It worked great and I spammed my photos regularly for the first couple years. Kim Nielsen told me his members joined because of a specific models. My newsgroup spamming brought the same results: surfers trying to track down more of the same. The models were the stars.
Timing is an important element of starting a business. I wasn't the smartest guy on the planet but I was persistent and the adult website landscape was absolutely barren. Amazingly most of the established Men's Magazines: Hustler, Penthouse, Playboy etc were very slow to transition to the Internet. It was the early entrepreneurs like Kim Nielsen who shaped the entire online adult industry. They developed the designs, the back ends for management and billing, the standards for content and updating and the marketing. Affiliate marketing, so widely used by thousands of online companies, was developed by the adult industry.
Matt's Models just kept growing. I wasn't even exactly sure how. I just kept shooting and updating.
I focused mainly on finding and recruiting new models. Hopefully models nobody else had. If you find them, members will come.
As far as my aspirations of becoming a celebrity I never became a household name, however there was value in developing my online personality which I discuss in a later chapter. For now I'll relay this story:  Two years later I started doing some live shows from my condo. My first guest was Erica Campbell and her incredible breasts.  She was writhing on my couch. I was moderating the chat and watching the members comments come through:
"Hey is this really Matt the most envied, red blooded male on the internet?" Erica looked at me and complained: "These guys have a naked girl in front of them and they want to talk to YOU!"
Mission accomplished!
If you want to do something fun check out the "The Wayback Machine"  an archive of over 240 billion webpages since 1996 and I'm proud to be in their archive since 2000.
*Pew Research